"Smoke/Grow Report"

Strain and Seed bank: C99 by Female Seeds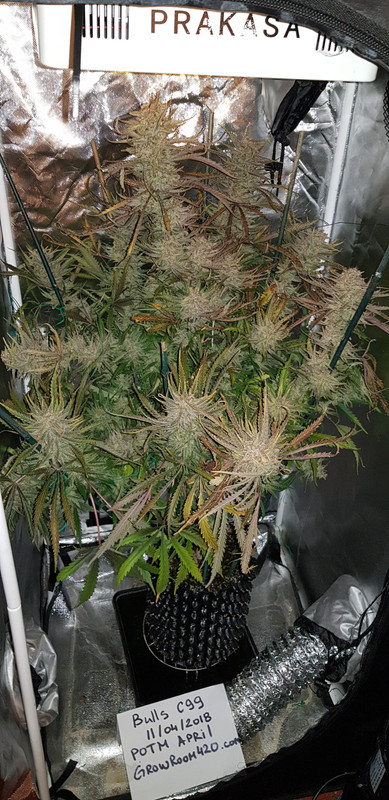 Parentage: C99 x C99
Numbers of grows or years growing: Around 4 years
Grow Equipment, Location & Style: Loft, 0,6x0,6m Tent and 200w Prakasa COB light
Germination: Paper Towel Method
Flowering: 10 weeks from flip
Soil Grow: No
Grow Medium: Coco
Nutes/Feed: Canna Coco A+B, Magic Plant Root Stimulant, Hammerhead PK, Liquid Silicon, PK 13/14, Epsom Salts
Weeks of veg: 4 weeks
Weeks of flower: 10 weeks from flip
Colour of thrichs at time of harvest: 20% amber, 80% cloudy
Wet yield: Never weigh wet 
Drying time: 5 Days
Dry Yield: 116 grams (4.14 oz)
Curing time at the date of the review: 3 weeks
Bud Density: 7 /10 :
Bud Appearance Comments: Some solid nugs, some more airy.
Grindability: 8/10
Smell in veg: 5/10
Smell in flower: 5/10 – Really strong smell. Smell can easily be detected if house/flat is not well vented.
Smell after curing: 7/10
Smell of smoke: 5/10
Taste: 8/10
The High: 9/10
Length of buzz : 7/10
Good comments: Nice uplifting daytime smoke with a pleasant fruity smell. Frosty and sticky, gives you nice citrusy scent when you squeeze the buds. I think I had the phenotype that stretches more. Don't think it is a great yielder, or it might be the environment that caused it but it is a plant worth growing. I have a few more seeds so maybe will grow her again :)
Another thing about this grow is that it was in not perfectly controller environment. Lights off temps were as low as 13/14 degrees and feed solution temperature was the same. And yes she done well! So seems that it's very resistant strain.
Bad Comments: One of the phenotypes, I think the one I had, can be stretchy. So be careful!